Towns and villages OF THE WIRRAL PENINSULA

Bebington, Bidston, Birkenhead, Bromborough
Greasby
Heswall, Hoylake
Irby
Liscard
Meols, Morecombe
New Brighton
Oxton
Pensby, Port Sunlight
Rock Ferry
Saughall, Spital
Tranmere
Upton
Wallasey, West Kirby, Woodchurch
TRANSPORT LINKS
The M53 motorway runs along the length of the Wirral, nearly to Chester. At the north eastern end, the Wirral is joined to Liverpool by three tunnels that run under the River Mersey: two road tunnels, one from Wallasey (Kingsway) and one from Birkenhead (Queensway), and the Mersey Railway tunnel.
The peninsula is served by a network of bus routes. These are provided by larger companies whose networks of bus services in the North West of England are extensive, such as Arriva North West and Stagecoach Wirral. Furthermore, the peninsula is also served by many independent bus operators, the largest being Avon Buses who operate many services without subsidy from Merseytravel.
Most bus services operate from the three bus stations: Birkenhead bus station, Heswall bus station and Woodside bus station.
The Wirral Line of the electrified Merseyrail network links West Kirby, New Brighton, Chester and Ellesmere Port via many other towns and villages to all four of Liverpool's city centre stations (James Street, Moorfields, Lime Street and Liverpool Central) through the underground Loop tunnel.
Regular Mersey Ferry crossings operate to Liverpool from both Woodside and Seacombe, providing a commuter shuttle and pleasure cruises.
The nearest passenger airports are Liverpool John Lennon Airport and Manchester Airport, although there are plans to use Chester's Hawarden Airport for more commercial flights.
Places of Interest
North Wirral Coastal Park - follows the route of the coastline between Dove Point at Meols and the Kings Parade at New Brighton. At four miles in length and 200 acres in area, the park provides a wide variety of recreational activities, Including: cycling, picnicking, walking and riding.
Hilbre Island - a Nature Reserve and the largest of a group of three islands at the mouth of the River Dee, the border between England and Wales at this point. The island can be reached on foot from the mainland at low tide, a popular activity with tourists.
Bidston Hill Lighthouse and Observatory - The observatory built in 1866 is a beautiful grade II listed building sitting proudly on the ridge of the hill.
Leasowe Lighthouse - Lingham Lane, Wallasey, CH40 4TA. Telephone 0151 678 5488. Built in 1763 and in operation until 1908 it is the oldest brick-built lighthouse in Britain.
Lady Lever Art Gallery - Port Sunlight Village, CH62 5EQ. Telephone 0151 478 4136. Grade II listed gallery, founded and built by William Lever, 1st Viscount Leverhulme and opened in 1922. Significant example of late Victorian and Edwardian taste, it houses major collections of fine and decorative art, English Furniture, Chinese ceramics and Roman sculpture.
Birkenhead Priory & St. Mary's Tower - Priory Street, CH41 5JH. Telephone 0151 652 4177. The Benedictine Monastery established around 1150 is the oldest build on Merseyside.
Wirral Tramway & Transport Museum - 1 Taylor St, Birkenhead CH41 1BG. Telephone 0151 677 2128. Includes a tramline running from Woodside Ferry to the museum.
Wirral Sailing Centre - South Parade, West Kirby, CH48 0QG. Telephone 0151 625 3292. Range of exciting water sports for people of all ages and abilities.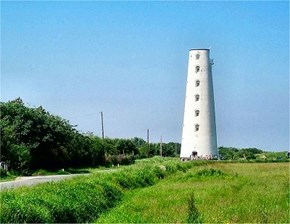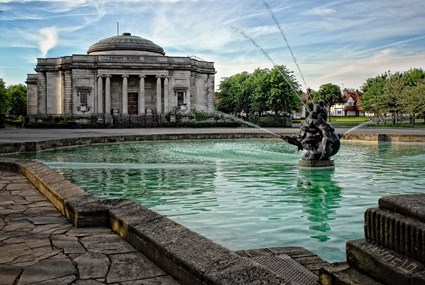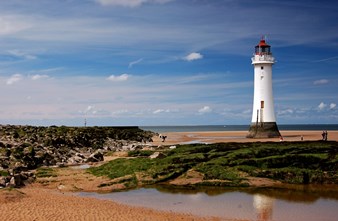 MAIN PARKS
Birkenhead Park - Park Drive, Birkenhead, CH41 4HY. Telephone 0151 652 5197.
Wirral Country Park - Station Road, Thurstaston, CH61 0HN. Telephone 0151 648 4371.
Arrowe Country Park - Arrowe Park Rd, Woodchurch, CH49 5LW. Telephone 0151 677 7594.
The Breck - Breck Road, Wallasey CH44 2ED.
Central Park - Liscard Road, Wallasey, CH44 0BS.
Eastham Country Park - Ferry Road, Eastham, CH62 0BH. Telephone 0151 327 1007.
Royden Park - Hillbank Road, Frankby, CH48 1 NP. Telephone 0151 677 7594.
LIBRARIES
Bebington - Civic Way, Bebington, CH63 7PN.  Telephone 0151 606 2665.
Beechwood - 8 Beechwood Drive, Greenfields, CH43 7ZU.  Telephone 0151 606 2665.
Birkenhead - Borough Road, Birkenhead, CH41 2XB.  Telephone 0151 606 2665.
Bromborough - Allport Lane, Bromborough, CH62 7HR.  Telephone 0151 334 1650.
Eastham - Mill Park Drive, Eastham, CH62 9AN.  Telephone 0151 606 2665.
Greasby - Greasby Road, Greasby, CH49 3AT.  Telephone 0151 606 2665.
Heswall - Telegraph Road, Heswall, CH60 0AF.  Telephone 0151 606 2665.
Higher Bebington - Higher Bebington Road, CH63 2PT.  Telephone 0151 608 3430.
Hoylake - Market Street, Hoylake, CH47 5AA.  Telephone 0151 632 2754.
Irby - Thurstaston Road, Irby, CH61 0HE.  Telephone 0151 648 1348.
Leasowe - Millennium Centre, Twickenham Drive, Leasowe, CH46 1PQ. Telephone 0151 638 4018.
Moreton - Pasture Road, Moreton, CH46 8SA.  Telephone 0151 606 2665.
New Ferry - Grove Street Junior School, Grove Street, CH62 5BA. Telephone 0151 643 7219 or 0151 645 1703.
Pensby - Pensby Road, Pensby, CH61 9NE.  Telephone 0151 648 4537.
Prenton - Dickens Avenue, Prenton, CH43 0TQ.  Telephone 0151 608 2858.
Ridgeway Community - Discovery CLC, Ridgeway High School, Noctorum Ave, Noctorum, CH43 9EB.  Telephone 0151 641 8484.
Rock Ferry - 259 Old Chester Road, Rock Ferry, CH42 3TD.  Telephone 0151 641 2858/9.
Seacombe - Liscard Road, Seacombe, CH44 6LT.  Telephone 0151 606 2305 or 0151 606 2310.
St James - St James Centre, Laird Street, Birkenhead, CH41 7AL.  Telephone 0151 652 2268 or 0151 651 1082.
Upton - Ford Road, Upton, CH49 0TB.  Telephone 0151 677 5677.
Wallasey Central - Earlston Road, Wallasey, CH45 5DX.  Telephone 0151 639 2334.
Wallasey Village - St George's Road, Wallasey Village, CH45 3NE.  Telephone 0151 638 1024.
West Kirby - The Concourse, West Kirby, CH48 4HX.  Telephone 0151 606 2665.
Woodchurch - Ganney's Meadow, Early Years Site, New Hey Road, CH49 8HB.  Telephone 0151 677 8068.
SPORTS
Tranmere Rovers Football Club - Wirral's only professional football club and play at Prenton Park, Birkenhead. They were a member of The Football League from 1921 until 2015, when they were relegated to the Conference, the fifth tier of English football. 
The Open Championship was played at the Royal Liverpool Golf Club in Hoylake in 1897, 1902, 1907, 1913, 1924, 1930, 1936, 1947, 1956, 1967, 2006 and 2014. The Women's British Open was played at Royal Liverpool in 2012.
Sailing/yachting - Hoylake, in north west Wirral is one of the premier European land sailing (sand yachting) sites, and was host to the week-long European Championships in September 2007 and again in 2011.
Wirral Cricket Club - founded in 1936 as part of the Wirral Club, which also includes the Wirral Rugby Club.  The club became noted after recording the game's lowest score in 100 years, on 27 April 2014
MAIN ANNUAL EVENTS
Birkenhead Fake Festival - Birkenhead Park during July.  Tribute bands with local supporting bands.
Hoylake 10k - Held in September, this coastal fun run starts from the North Parade promenade opposite the Parade Hoylake Community Centre to car park by Leasowe Lighthouse and continuing back onto the embankment towards the Leasowe Castle Hotel. Then at the 5km marker, runners return back along the same route. 
AREAS OF POTENTIAL HIGHER RISK
Flooding - Floods are mostly natural events that result either from excessive rainfall that leads to rivers overflowing their banks, or from tidal storm surges on the coast or in estuaries. In urban areas, manmade drainage systems may have inadequate capacity or become blocked leading to flooding.  Because of climate change, both the chance and consequence of flooding has increased. Sea levels rise more frequent and higher storm surges and increased winter rainfall and more intense summer rainfall will add to existing risk and it may not prove possible to improve fixed defences sufficiently to maintain or raise protection standards.  The Environment Agency (EA) is the lead organisation on flood defence, and reports at policy level to the Department for Environment, Food & Rural Affairs (DEFRA). This work, together with the Agency's overall direction and supervision of all aspects of flood defence, is vital for sustaining the existing land use found on river and coastal flood plains.
Industrial Sites (Control of Major Accident Hazards - COMAH) - There are eight COMAH sites in Wirral, upper tier and lower tier.  An upper tier COMAH establishment is required to produce a full safety report which demonstrates that all necessary measures have been taken to minimise risks posed by the site with regard to the environment and local populations. Wirral, in partnership with Merseyside Fire & Rescue Service and the site operator, share detailed plans of assessment, anticipation, protection, preparedness, response and recovery. Three-yearly exercises are conducted with the site and partner agencies to ensure all processes and procedures are in place and well, rehearsed. (The Control of Major Accident Hazards Regulations 1999 (COMAH) and their amendments 2015, are the enforcing regulations within the United Kingdom of the Seveso II Directive devised in Brussels following the Seveso disaster. They are applicable to any establishment storing or otherwise handling large quantities of industrial chemicals of a hazardous nature).  Further information is available from the Health and Safety Executive.
Upper Tier COMAH Sites :
Eastham Refinery, North Road, Ellesmere Port
Essar Oil (UK) Limited, Tranmere Oil Terminal, Birkenhead
NuStar Eastham Limited, Bankfields Drive, Eastham
NuStar Eastham Limited, Powerhouse Road, Eastham
Unilever UK, Wood Street, Port Sunlight
Lower Tier COMAH Sites :
FMC Chemicals Limited, Commercial Road, Bromborough
Oil & Pipelines Agency, Ferry Road, Eastham
Sharpness Dock Limited, Dock Road South, Bromborough
USEFUL CONTACTS
NAME

TELEPHONE

WEBSITE

Wirral Council

0151 606 2000

Arrowe Park Hospital (Wirral University Teaching Hospital)       

Arrowe Park Road, Upton, CH49 5PE

0151 678 5111

 

 

Clatterbridge Cancer Centre

Clatterbridge Road, Bebington, CH63 4JY

0151 334 1155

 

 

Merseyside Police

Mortimer Street, Birkenhead, CH41 5EU

Manor Road, Wallasey, CH44 1DA

Urgent 999

General 101

From outside Merseyside 0151 709 6010    

 

 

Merseyside Fire and Rescue Service

 

Birkenhead, Exmouth St, CH41 4AX

Bromborough, Dock Road South, CH62 4SQ

Heswall, Telegraph RD, CH60 0AF

Upton, Arrowe Park Road, CH49 0UF

Wallasey, Mill Lane, CH 44 5UE

West Kirby, The Concourse, Grange Road, CH48 4HX

Urgent 999

General 0151 296 4000

0151 606 5419

0151 606 5419

0151 296 5805

0151 296 5895

0151 296 6180

0151 296 5955

 

 

 

 

 

 

 

Maritime & Coastguard Agency

 

Urgent 999

General 0151 931 3341

 

Merseytravel

0151 227 5181

www.merseytravel.gov.uk (for planning rail, bus and ferry journeys) 

Scottish Power

 

 

Powercut 105 

Enquiries 0845 273 4444

Emergencies 0800 001 5400

 

 

United Utilities

Enquiries (24/7) 0345 672 3723