Each year the NHS prepares for the unpredictability of flu.  For most healthy people, flu is an unpleasant but usually self-limiting disease with recovery generally within a week.
However, the following people are at particular risk of severe illness if they catch flu:
older people;
the very young;
pregnant women;
those with underlying disease, particularly chronic respiratory or cardiac disease;
those who are immunosuppressed.
The NHS offers flu vaccinations to vulnerable people to help protect against existing flu viruses.  Flu is a viral infection affecting the lungs and airways. The symptoms can appear very quickly and include:
headache;
fever;
cough;
sore throat;
aching muscles and joints.
Complications include bacterial pneumonia and can be life threatening especially in:
older people;
those with certain underlying health conditions.
It occurs most often in winter in the UK and peaks between January and March.
WHAT CAN YOU DO?
BEFORE
Keep as healthy as possible – a healthy lifestyle will be a great defence against flu and other illnesses;
for information about the flu vaccination programme, go to the NHS Choices website;
minimise close contacts;
if affected, stay at home and drink plenty of fluids;
watch out for and follow advice when issued via a range of media; including the printed press; TV; radio; NHS websites; posters and leaflets;
keep personal stocks of 'over the counter' cold and flu medication to help relieve your symptoms;
know the sickness and closure arrangements for your child's school;
know the sickness reporting arrangements of your employer;
identify a flu friend - somebody who could collect your medication, food and other supplies if you become ill;
look out for elderly relatives or neighbours who may need extra help.
DURING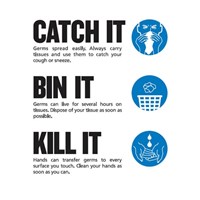 The following basic hygiene practices are known to help limit the spread of viruses and similar advice was issued during the "swine flu" outbreak of 2009, by the "Catch it, Bin it, Kill it" campaign - To reduce the risk of catching viruses, cover your mouth and nose with a tissue when coughing or sneezing, dispose of tissues quickly and regularly wash your hands with soap and water or a sanitising gel;
further information is available on the Public Health England and NHS England websites;
for more information about the flu vaccination programme, go to the NHS Choices website.
AFTER
Monitor your health and if any symptoms return consider revisiting the actions above.