Exercise Cygnus - Tuesday, October 18, 2016
The Civil Contingencies Act (2004) requires us to produce a Community Risk Register (CRR) as part of our wider work in preparing for, responding to and recovering from emergencies. The register covers all types of risks and includes the joint plans and control measures that we have in place to protect the community of Merseyside. 
Exercise Cygnus took place from 18 to 20 October 2016. This was a national exercise that involved the participation of representatives from a variety of multi-agency partners from the Merseyside Resilience Forum (MRF), ie. Health, Local Authorities, Fire, Police, Ambulance, Army and two local Prisons.
The exercise focused on the influenza type disease (pandemic) risk contained within the Community Risk Register. The overall aim of the national exercise was to assess preparedness and response to an influenza pandemic in the UK with the objectives of exercising:
organisational pandemic influenza plans at a local and national levels;
co-ordination of messaging to the public;
strategic decision-making processes around the wider consequences and cross government issues at both local and national levels during an influenza pandemic (such as excess deaths particularly at prison/secure facilities);
the provision of scientific advice during an influenza pandemic.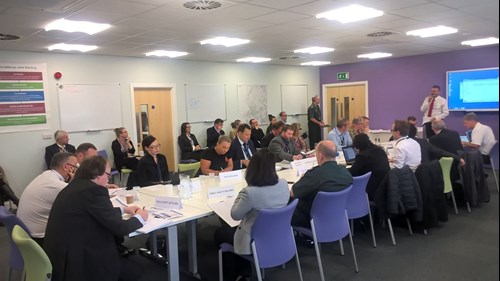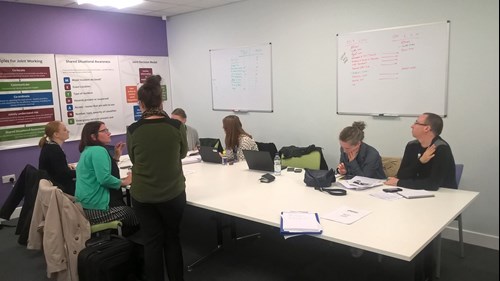 In addition to the objectives above, Merseyside set their own local objectives to:
validate the MRF's Influenza Pandemic and Extra Deaths Plans;
exercise co-ordination of messages to the public;
explore and identify issues around the impact of flu in various settings - local Prisons, Care Homes and Higher Education;
explore the social care policy implications during a pandemic;
explore the impact on supply chains, tourism and mass gathering/events in Merseyside;
update understanding of the use of the third sector to support the response;
test business continuity arrangements of multi-agency partners;
exercise the multi-agency co-ordination of resources to cope with extra deaths in the community;
explore Military Aid to Civil Authority (MACA) capabilities and procedures during a pandemic scenario.
The exercise provided an opportunity for participants to get involved and gain a better understanding of the workings of the Joint Control Centre, this is where all major incidents and events are controlled from.
The exercise was a success, the objectives were achieved, however, a number of actions were identified that will improve the overall response to an influenza pandemic occurring in the UK.