Liverpool City Council is one of the six constituent local government districts of the Liverpool City Region. It takes its name from 'Liuerpul' possibly meaning a pool or creek with muddy water.
Liverpool is a world famous city. The city has experienced a remarkable cultural and economic renaissance. There has been an unprecedented level of public and private sector investment that has transformed the city centre, delivering new cultural assets, shopping venues and transport infrastructure; it is a city which is continuing to regenerate and has ambitions on a global scale. It has thriving retail, commercial and manufacturing centres, an airport, universities, cathedrals and major tourist attractions. It's a unique and vibrant place to live, work, visit and invest, with a population of over 450,000 people and tens of millions of visitors every year.
Several areas of Liverpool city centre were granted World Heritage Site status by UNESCO in 2004.
districts in Liverpool
Aigburth, Allerton, Anfield
Belle Vale, Bowring Park, Broadgreen
Childwall, Clubmore, Croxteth
Dingle, Dovecot
Edge Hill, Everton
Fairfield, Fazakerley
Garston, Gateacre, Grassingdale
Halewood, Hunts Cross
Kensington, Kirkdale, Knotty Ash
Liverpool City Centre
Mossley Hill
Netherley, Norris Green
Orrell Park, Old Swan
Page Moss, Princess Park
Sandfield Park, Sefton Park, Speke, Stoneycroft
Tuebrook, Toxteth
Vauxhall
Walton, Wavertree, West Derby, Woolton
TRANSPORT LINKS
Transport in Liverpool is primarily centred on the city's road and rail networks, both of which are extensive and provide links across the United Kingdom. Liverpool has an extensive local public transport network, which is managed by the Merseyside Passenger Transport Executive, and includes buses, trains and ferries. Additionally, the city also has an international airport and a major port, both of which provide links to locations outside the country.
As a major city, Liverpool has direct road links with many other areas within England. To the east, the M62 motorway connects Liverpool with Hull and along the route provides links to several large cities, including Manchester, Leeds and Bradford. To the west of the city, the Kingsway and Queensway Tunnels connect Liverpool with the Wirral Peninsula, providing links to both Birkenhead and Wallasey.
Liverpool is served by two separate rail networks. The local rail network is managed and run by Merseyrail and provides links throughout Merseyside and beyond while the national network, which is managed by Network Rail, provides Liverpool with connections to major towns and cities across the England. The city's primary mainline station is Lime Street station, which acts as a terminus for several lines into the city. Train services from Lime Street direct to London (in2 hours 4minutes) and to Manchester, Birmingham and the other core cities. In the south of the city, Liverpool South Parkway provides a connection to the city's airport.
The Port of Liverpool is one of Britain's largest ports, providing passenger ferry services across the Irish Sea to Belfast, Dublin and the Isle of Man. Services are provided by several companies, including the Isle of Man Steam Packet Company, P&O Ferries and Stena Line. In 2007, a new cruise terminal was opened in Liverpool, located alongside the Pier Head in the city centre.
Liverpool John Lennon Airport, which is located in the south of the city, provides Liverpool with direct air connections across the United Kingdom and Europe. In 2008, the airport handled over 5.3 million passengers and today offers services to 68 destinations, including Berlin, Rome, Milan, Paris, Barcelona and Zürich. The airport is primarily served by low-cost airlines, notably Ryanair and Easyjet.
The Kingsway road tunnel gives direct access to the M53 motorways, which runs east to the M56. The north south M6 has a junction with the M56. The Queensway road tunnel give a direct link to the A41 that eventually stretches to London, although using the M62 or M6 and eventually M1 is a far quicker route from Liverpool to London.
Places of Interest
Liverpool's history means that there are a considerable variety of architectural styles found within the city, ranging from 16th century Tudor buildings to modern-day contemporary architecture. The majority of buildings in the city date from the late-18th century onwards, the period during which the city grew into one of the foremost powers in the British Empire. There are over 2,500 listed buildings in Liverpool, of which 27 are Grade I listed and 85 are Grade II listed. The city also has a greater number of public sculptures than any other location in the United Kingdom aside from Westminster and more Georgian houses than the city of Bath. This richness of architecture has subsequently seen Liverpool described by English Heritage, as England's finest Victorian city.
Three Graces - for nearly a century the Three Graces - The Royal Liver Building, The Cunard Building and the Port of Liverpool Building - have defined one of the world's most recognised skylines. These iconic buildings were conceived and constructed as visible symbols of Liverpool's international prestige, proud emblems of its commercial prowess. As such the Three Graces and cultural sites below are potential terrorist targets and are important in terms of the visitor economy.
St George's Hall - a building in Neoclassical style which contains concert halls and law courts, and is recorded in the National Heritage List for England as a designated Grade I listed building. On the east side of the hall, between it and the railway station is St George's Plateau and on the west side are St John's Gardens. The Plateau is associated with public rallies and gatherings, including the deaths of Beatles, John Lennon and George Harrison, and the homecomings of Liverpool and Everton football teams after Cup Final Victories.
Liverpool Town Hall - a designated Grade I listed building and one of the finest surviving 18th-century town halls in the world.
National Museums Liverpool - comprises several museums and art galleries. National Museums currently comprises eight different venues, one of which is outside Liverpool itself — the Lady Lever Art Gallery, located in Wirral. The rest are the World Museum, Walker Art Gallery, Merseyside Maritime Museum, and Seized! The Border and Customs uncovered, International Slavery Museum, Sudley House, Museum of Liverpool, and National Conservation Centre. Other museums and art galleries include: The Beatles Story, Croxteth Hall, Foundation for Art and Creative Technology, Tate Liverpool, Western Approaches etc.
Liverpool Cathedral - is the Church of England's Cathedral in the Diocese of Liverpool, built on St James's Mount and is the seat of the Bishop of Liverpool. It is the 5th largest in cathedral in the world. It is a Grade I listed building.
Metropolitan Cathedral -known as the Metropolitan Cathedral of Christ the King and is the seat of the Archbishop of Liverpool. To distinguish it from the Anglican Liverpool Cathedral, locals refer to it as "Paddy's Wigwam" and the "The Mersey Funnel". It is a Grade II listed building.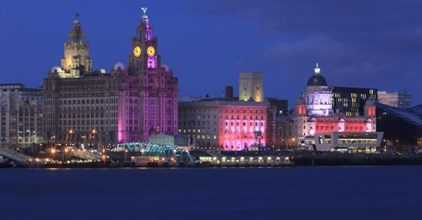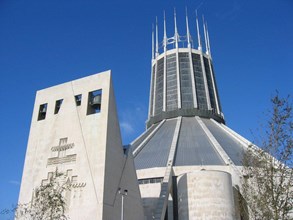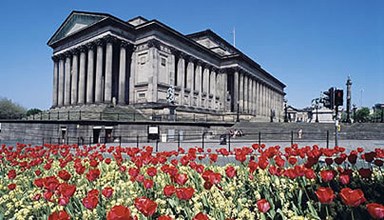 MAIN PARKS
Allerton Towers - Woolton Road, L25 7 UL (also from Menlove Avenue).  Telephone 0151 233 2008
Calderstones - Calderstones Road, L18 6HS (also from Allerton Road).  Telephone 0151 233 2008
Camphill and Woolton Woods - High Street, L25 7 (also Woolton High Street).  Telephone 0151 233 2008
Childwall Woods - Access from Childwall Park Ave L25, Woolton Road.  Telephone 0151 233 2008
Croxteth Country Park - Croxteth Hall Lane, L12 0HB. Telephone 0151 233 2008
Everton Park - Heyworth Street, L5 PH (also from Great Howard Street).  Telephone 0151 233 2008
Newsham Park - Sheil Road, L6 7UH (also from Prescot Road and West Derby Road).  Telephone 0151 233 2008
Princess Park - Ullet Road, L8 3SR (also from Belvedere Road).  Telephone 0151 233 2008
Sefton Park - Aigburth Drive, L17 1AF (also from Queens Drive, Lark Lane and Greenbank Road).  Telephone 0151 233 2008
Speke & Garston Coastal Reserve - Speke Boulevard (A561) junction Banks Road. Telephone 0151 233 2008
Stanley Park - Walton Lane, L4 2SL (also from Anfield Road).  Telephone 0151 233 2008
Walton Park - Walton Hall Avenue, L4 9XP. Telephone 0151 233 2008
Wavertree Botanic Gardens - Botanic Road, L7 5PY. Telephone 0151 233 2008
Wavertree Playground (Mystery) - Wellington Road (also from Smithdown Road and Grant Avenue).  Telephone 0151 233 2008
LIBRARIES
Allerton - Allerton Road, L18 6HG.  Telephone 0151 233 3069
Breck Road - 8–10 The Mall, Breck Road, L5 6PX.  Telephone 0151 233 3069
Central - William Brown Street, L3 8EW.  Telephone 0151 233 3069
Childwall - Childwall Fiveways, L15 6UT.  Telephone 0151 233 3069
Croxteth - Altcross Road, L11 0BS.  Telephone 0151 233 3069
Dovecot - Back Dovecot Place, L14 9BA.  Telephone 0151 233 3069
Fazakerley - Formosa Drive, L10 7LQ.  Telephone 0151 233 3069
Garston - Bowden Road, L19 1QN.  Telephone 0151 233 3069
Kensington - Kensington, L7 2RJ.  Telephone 0151 233 3069
Lee Valley - Childwall Valley Road, L25 2RF. Telephone 0151 233 3069
Norris Green - Townsend Avenue, L11 5AF.  Telephone 0151 233 3069
Old Swan - Prescot Road, L13 5XG.  Telephone 0151 233 3069
Parklands - Conleach Road, L24 0TY. Telephone 0151 233 3069
Sefton Park - Aigburth Road, L17 4JS.  Telephone 0151 233 3069
Spellow - County Road, L4 3QF.  Telephone 0151 233 3069
Toxteth - Windsor Street, L8 1XF.  Telephone 0151 233 3069
Walton - Evered Avenue, L9 3QF.  Telephone 0151 233 3069
Wavertree - Picton Road, L15 4LP.  Telephone 0151 233 3069
West Derby - West Derby Road, L13 7HQ.  Telephone 0151 233 3069
sports
Sport and Culture are synonymous with Liverpool. The city is the home of two Premier League football clubs, Liverpool and Everton. Matches between the two are known as the Merseyside derby. The city also hosts marathons, triathlons and events such as the Tour of Britain and Sky Ride.
MAIN ANNUAL EVENTS
Liverpool International Tennis Tournament - Liverpool Cricket Club, Aigburth held during June.
Walton Festival - Walton Hall Park during July.  Supported by Liverpool City Council, Walton Community Interest Company, County Road Regeneration and local housing associations, the festival will include a Victorian themed funfair, live music, sports display, farmers market and dance and gymnastics displays.
Liverpool International Music Festival - Sefton Park during July.  Live music event, previously known as the Matthew Street Festival.
Brouhaha Liverpool International Carnival - Parade from Mulberry Street to Princes Park during July, celebrating diversity through dance, music and costumes.
Fusion Music Festival - Otterspool Prom in September.  The UK's biggest pop music festival.
Fireworks - displays held at Newsham and Sefton Parks on 5th November.
Cruise Ships - Liverpool's cruise industry continues to grow as the city prepares to welcome a record number of ships in 2016.  Liverpool Cruise Terminal will play host to 64 ships – ten more than the previous year – bringing in more than 85,000 passengers. The 2016 schedule includes five inaugural visits, including Disney Magic which is one of the USA's most popular cruise lines and has never visited the British Isles before. It will call twice to Liverpool next year.   The other River Mersey debuts will be made by Royal Caribbean's Brilliance of the Seas, German travel operator Phoenix Reisen will bring two ships Artania and Amadea, and Ponant will bring luxury French liner L'Austral. There will also be a number of overnight calls including Brilliance of the Seas, Celebrity Silhouette, Phoenix Reisen Amadea and Hapag Lloyd Europa. Liverpool's cruise industry brought in around £7 million to the local economy this year as the city welcomed 81,000 visitors and 37,000 crew. Each passenger spent an estimated £70 in the city, with crew members spending £30.
Disruption - These events whilst managed very robustly inevitably put pressure on transport systems, infrastructure, health services and the city's day to day business. Details of any forthcoming major events, roadworks, road closures etc can be ascertained from the following link - http://liverpool.gov.uk/parking-travel-and-roads/roadworks/
Areas of Potential Higher Risk
Flooding - Floods are mostly natural events that result either from excessive rainfall that leads to rivers overflowing their banks, or from tidal storm surges on the coast or in estuaries.  In urban areas, manmade drainage systems may have inadequate capacity or become blocked leading to flooding.  Liverpool is the forth highest risk in the country for surface water flooding. This is a result of urbanisation, aging infrastructure and that a large percentage of water courses are culverted which leads to standing water.  Because of climate change, both the chance and consequence of flooding has increased. Sea levels rise, more frequent and higher storm surges and increased winter rainfall and more intense summer rainfall will add to existing risk and it may not prove possible to improve fixed defenses sufficiently to maintain or raise protection standards.  The Environment Agency (EA) is the lead organisation on flood defence and reports at policy level to the Department for Environment, Food & Rural Affairs (DEFRA). This work, together with the Agency's overall direction and supervision of all aspects of flood defence, is vital for sustaining the existing land use found on river and coastal flood plains.
Industrial Sites (Control of Major Accident Hazards - COMAH) - There are nine COMAH sites in Liverpool, upper tier and lower tier.  An upper tier COMAH establishment is required to produce a full safety report which demonstrates that all necessary measures have been taken to minimise risks posed by the site with regard to the environment and local populations. Liverpool, in partnership with Merseyside Fire & Rescue Service and the site operator, share detailed plans of assessment, anticipation, protection, preparedness, response and recovery. Three-yearly exercises are conducted with the site and partner agencies to ensure all processes and procedures are in place and well, rehearsed. (The Control of Major Accident Hazards Regulations 1999 (COMAH) and their amendments 2015, are the enforcing regulations within the United Kingdom of the Seveso II Directive devised in Brussels following the Seveso disaster. They are applicable to any establishment storing or otherwise handling large quantities of industrial chemicals of a hazardous nature).  Further information is available from the Health and Safety Executive.
Upper Tier COMAH Sites :
Eli Lilly & Company, Fleming Road, Speke (borders with Liverpool and Knowsley)
Lower Tier COMAH Sites :
Associated British Ports, Dock Road, Garston
Beckers Group, Goodlass Road, Speke
Biodeg Chemical Company Limited, Edwards Lane, Speke
Blagden Speciality Chemicals Limited, Triumph Trading Park, Speke
Calor Gas, Derby Road, Liverpool
Henty Oils, Huskisson Docks, Regent Road, Liverpool
United Molasses Storage Limited, Shore Road, Seaforth
Veolia ES (UK) Limited, King Street, Garston
USEFUL CONTACTS
NAME
TELEPHONE
WEBSITE

Liverpool City Council

0151 233 3000/1

Environment & Emergency Resilience Unit

0151 233 8637

 

Aintree University Hospital

Lower Lane, L9 7AL

Alder Hey Children's Hospital

Eaton Road, L12 2AP

Broadgreen Hospital

Thomas Drive, L14 3PE

Liverpool Heart & Chest Hospital

Thomas Drive, L14 3PE

Liverpool Dental Hospital

Pembroke Place, L3 5PS

Royal Liverpool & Broadgreen Hospital

Prescot St, L7 8XP

St Paul's Eye Unit

Prescot St, L7 8XP 

0151 525 5980

 

0151 252 5412

 

0151 706 2000 

 

0151 600 1616

 

0151 706 2000

 

0151 706 2000

 

0151 706 3222

 

 

 

 

 

 

 

 

Merseyside Police

Admiral Street, Liverpool, L8 8JN

St. Anne Street, Liverpool, L3 3HJ

Ganworth Road, Speke, L24 2XQ

Walton Lane, Walton, L4 5XF

Urgent 999

General 101

Outside of Merseyside 0151 709 6010    

 

   

 

 

 

 

Merseyside Fire and Rescue Service

 

Longmoor Lane, Aintree, L9 0EN

Childwall Valley Road, Belle Vale, L25 2PY

Storrington Avenue, Croxteth, L11 9AP

Studholme Street, Kirkdale, L20 8EQ

Beech Street, Kensington, L7 0EU

St Anne Street, Liverpool City, L3 3DS

628 Queens Drive, Old Swan, L13 5UD

Cartwrights Farm Road, Speke & Garston, L24 1UY              

95 Windsor Street, Toxteth, L8 8E

Urgent 999

General 0151 296 4000

0151 296 5695

0151 296 6600

0151 296 5595

0151 296 5375

0151 296 5415

0151 296 6270

0151 296 5725

0151 296 5765

0151 296 5835

 

 

 

 

 

 

 

 

 

 

Maritime & Coastguard Agency

 

Urgent 999

General 0151 931 3341                 

 

Liverpool John Lennon Airport

Merseytravel

 

0151 521 8484            

0151 227 5181

 

(for planning rail, bus and ferry journeys)   

Scottish Power

 

 

Powercut 105

Enquiries 0845 273 4444

Emergencies 0800 001 5400

 

United Utilities

Enquiries (24/7) 0345 672 3723