It is named after the village and parish of Sefton that formerly served as the seat of the Molyneux family. The Borough of Sefton is a metropolitan borough of Merseyside and its local authority is Sefton Council.  The borough consists of a coastal strip of land on the Irish Sea and extends from Bootle in the south to Southport in the north. In the south-east, it extends to Maghull. The district is bounded by Liverpool to the south, Knowsley to the south-east and West Lancashire to the east.
Towns and Villages in Sefton
Ainsdale, Aintree
Birkdale, Blowick, Blundellsands, Bootle
Churchtown, Crosby, Crossens
Ford, Formby
Hightown, Hillside
Ince Blundell
Kennessee Green
Litherland, Little Altcar, Little Crosby, Lunt, Lydiate
Maghull, Marshside, Melling
Netherton
Orrell
Seaforth, Sefton, Southport
Thornton
Waterloo, Woodvale
TRANSPORT LINKS
Transport in Sefton is primary centred on the areas road and rail networks, both of which are extensive and provide links to Liverpool and Preston. In the main Sefton's local public transport network is managed by the Merseyside Passenger Transport Executive, and includes buses and trains.
Places of Interest
Southport:
Easily accessible from all over the North West, A great town for a day out, short break or seaside holiday, attractions include:
Coastline – over 22 miles of coastline boasting a number of beautiful beaches and stunning natural beauty;
Pier – oldest iron pier, Grade II listed and is over 150 years old;
Eco Visitor Centre, Esplanade, PR8 1 RX, (0151 934 2711) - designed to act as a real demonstration of environmentally sound construction methods and the impacts we have on the environment with our energy use.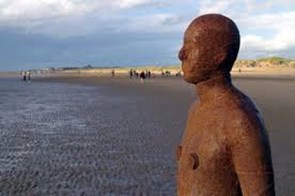 Crosby:
Another Place by Antony Gormley – 11 years since the famous Iron Men arrived in Sefton on Crosby Beach.
Main Parks
Hesketh Park -

Park Crescent, Southport,

PR9 9NW.  Telephone 

01704 540070.

Churchtown Botanic Gardens -

Bankfield Lane,

Churchtown,

Southport,

PR9 7NB.  Telephone 

01704 533333.

Victoria Park

- Rotten Row, Southport, PR8 2BZ.  Telephone 

01704 533333.

Crosby Coastal Park -

Cambridge Road or Mariners Road or Hall Road West,

Crosby,

L22 1RR.  Telephone 

0151 934 2967.

Derby Park - Oxford Road, Bootle, L20 9HL.
Libraries
Bootle - 220 Stanley Road, L30 3 EN.  Telephone 0151 934 5871
Crosby - Crosby Road North, Waterloo, L22 0LG.  Telephone 0151 257 6400 or 0151 928 6487
Formby - Duke Street, L37 4AN.  Telephone 01704 874177
Meadows (Maghull) - Hall Lane, Maghull, L31 7BB.  Telephone 0151 288 6727
Netherton - Glovers Lane, L30 3TL.  Telephone 0151 525 0607
Southport - Lord Street, PR8 1DJ.  Telephone 0151 934 2214
sports
Southport Football Club - formed in 1881 and they have played at Haig Avenue for over 100 years. In 2005 the club celebrated its centenary at Haig Avenue, having previously been based at the Central Ground. Southport were founder members of the Central League in 1911 and in 1918 were taken over by the Vulcan Motor Company - playing as Southport Vulcan for one season, the first club to use a sponsorship label as part of their name.  In the last ten years Southport have played in the Nationwide Conference, Unibond Premiership, Nationwide North, Nationwide Conference again, Nationwide North again and are now back in the equivalent of Nationwide Conference, the Conference Premier. 
Golf - there are a number of Gold Clubs within Sefton, the most notable being Royal Birkdale. This is one of Britain's finest golf clubs and is among the best in the world. It has staged the Ryder Cup and the Open. The Open will return in 2017.
 Main Annual Events
Southport Flower Show – The UK's largest independent flower show usually held in August
Grand National Festival – 3 day event held at Aintree Racecourse in April
Woodvale Rally – Classic cars/model air display held in Victoria Park/Princess Park in June
Southport Air Show - usually held in September on the seafront
British Musical Fireworks Championships – held in Victoria Park in September/October
Roundtable Bonfire Night Fireworks Display - held in Victoria Park on or near 5 November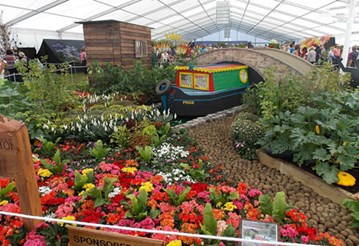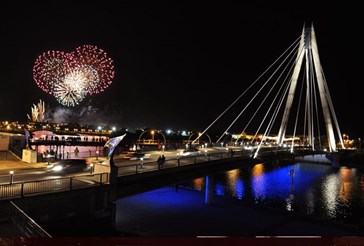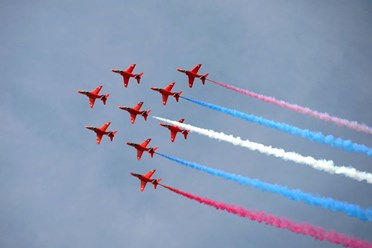 Areas of Potential Higher Risk
Flooding - Floods are mostly natural events that result either from excessive rainfall that leads to rivers overflowing their banks, or from tidal storm surges on the coast or in estuaries. In urban areas, manmade drainage systems may have inadequate capacity or become blocked leading to flooding.  Because of climate change, both the chance and consequence of flooding has increased. Sea levels rise more frequent and higher storm surges and increased winter rainfall and more intense summer rainfall will add to existing risk and it may not prove possible to improve fixed defenses sufficiently to maintain or raise protection standards.  The Environment Agency (EA) is the lead organisation on flood defence, and reports at policy level to the Department for Environment, Food & Rural Affairs (DEFRA). This work, together with the Agency's overall direction and supervision of all aspects of flood defence, is vital for sustaining the existing land use found on river and coastal flood plains.
Useful Contacts
NAME
TELEPHONE                                           
WEBSITE

Sefton Council

0345 140 0845

Southport & Ormskirk Hospital

Town Lane, Kew, PR8 6PN

01704 547471

 

www.southportandormskirk.nhs.uk

 

Merseyside Police

Albert Road, Southport, PR9 0LL                    

Marsh Lane, Bootle, L20 5HJ

Urgent 999

General 101

From outside Merseyside 0151 709 6010    

 

 

Merseyside Fire and Rescue Service          

              

Headquarters, Bridle Road Bootle, L30 4YD

Crosby Road North, Waterloo, L22 0LA

Church Road, Formby, L37 3NH

Buckley Hill Lane, Netherton, L29 1YB

Manchester Road, Southport, PR9 0LH

Urgent 999

General 0151 296 4000

As above

0151 296 5605

0151 296 5635

0151 296 6700

0151 296 6650

 

 

 

 

 

 

Maritime & Coastguard Agency

 

Urgent 999

General 0151 931 3341

 

Merseytravel

0151 227 5181

www.merseytravel.gov.uk (for planning rail, bus and ferry journeys)

Scottish Power

 

 

Powercut 105

Enquiries 0845 273 4444

Emergencies 0800 001 5400

 

 

United Utilities

Enquiries (24/7) 0345 672 3723