The Metropolitan Borough of St Helens is one of the six constituent local government districts of the Liverpool City Region. It takes its name from the chapel of ease dedicated to St Elyn.  The Borough covers a total of 135 square kilometres, of which approximately half is rural and half is urban. An extensive road, bus and rail network provides excellent accessibility for people travelling to and from St.Helens for work, leisure, to live or to visit friends and family.  History is inextricably linked with the industrial revolution, coal mining and a world famous glass industry, which employed many of the local residents.
Towns and villages in St.Helens
Billinge, Bold
Carr Mill, Chadwick Green (Billinge), Clock Face, Collins Green, Crank
Dentons Green
Eccleston, Eccleston Park
Garswood, Gillars Green, Grange Park
Haydock
Moss Bank
Newton-le-Willows
Parr
Rainford, Rainhill
Seneley Green, Sutton Manor
Thatto Heath
TRANSPORT LINKS
St.Helens is 11 miles (18 km) to the East of Liverpool serviced by the East Lancashire Road A580 and M57 motorway. Manchester is 23miles (37 km) from the centre accessible by the A580 and M6 motorway. The town has direct transport links by road and via two main railway lines now serviced by the new improved Network Rail electrified lines. Its centralised location has formed an ideal location to live and work with a fair split of rural and township areas. The nearest airport is Liverpool John Lennon (12 miles, 19 km). Manchester Airport is approximately 25 miles away (40 km).
Places of Interest
Town Hall - built in 1876 to replace the original (damaged by a fire in 1871); its clock tower originally had a steeple but this was destroyed in a fire in 1913.
Gamble Institute - built in 1896 and named after Sir David Gamble, who was the first mayor and who also gifted the land for the building. Today, the Gamble Institute building serves as the central library and also houses other municipal offices and archives.
The Friends' Meeting House - Church Street. This attractive stone-built Grade II listed hall has been used for Quaker worship for over 300 years since its establishment, in 1678, by George Shaw of Bickerstaffe.
The Beecham Clock Tower - Westfield Street, now part of St Helens College. This was the original headquarters of the Beecham Pharmaceutical Empire.
St Mary's Lowe House Catholic Church - North Road, a grade II listed building, opened in 1929, the second on this site (the land having been donated by Winifred Gorsuch Lowe - hence the name 'Lowe House'). The church is an unusual and striking landmark with a 130 ft tower and a dome of a Romanesque crossed with Gothic style. The major feature is the historic Carillon (bells playable in musical notation by a keyboard, rather than in sequences by ropes). It is the largest in the North West of England housing 47 bells.
The World of Glass Museum - opened in 2000 incorporating the Pilkington Glass Museum and the St.Helens Local Museum, has received many awards including North West Attraction of the Year.
The Dream - a sculpture and a piece of public art by Jaume Plensa in Sutton.  Costing 1.8m, it was funded through The Big Art Project in coordination with the Arts Council England, The Art Fund and Channel 4.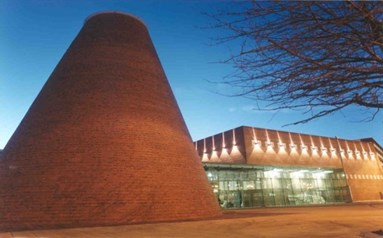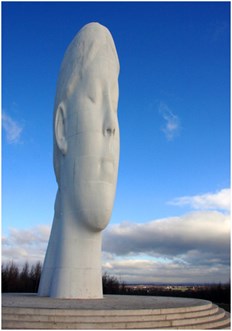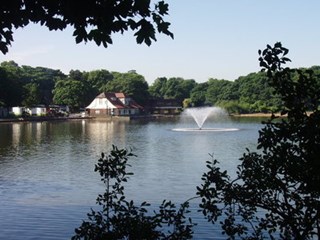 MAIN PARKS
Bankes Park - Main Street, Billinge, WN5.  Telephone 01744 895 551.
Bold Forest Park - Jubits Lane, Sutton Manor, WA9 4BB.
Clinkham Wood Nature Reserve - Lorton Avenue, Moss Bank, WA11 7DJ.  Telephone 01744 600 938.
Mesnes Park - Park Road North, WN6 7AA.
Sherdley Park - Marshalls Cross Road, Sutton, WA9 5DE. Telephone 01744 820772.
Siding Lane Woodland - 

Siding Lane, Bickerstaffe, St.Helens WA11 7SR.  Telephone 

01744 815 586.
Taylor Park - Regents Street, St.Helens, WA10 3HX.  Telephone 01744 248 857.
The Duckeries - Derbyshire Hill Road, Parr, WA9 2NH.
LIBRARIES
Billinge - Main Street, WN5 7HA. Telephone 01744 677 535.
Central - Victoria Square, St Helens, WA10 1DY. Telephone 01744 676 954.
Chester Lane - Four Acre Lane, St Helens, WA9 4DE. Telephone 01744 677 081.
Eccleston - Broadway, Eccleston, WA10 5PJ. Telephone 01744 677 575.
Garswood - School Lane, Ashton-in-Makerfield, WH4 0TT. Telephone 01744 677 797.
Haydock - Church Road, WA11 0LY. Telephone 01744 677 801.
Moss Bank - Bownes Avenue, WA11 7EQ. Telephone 01744 677 988.
Newton-le-Willows - Crow Lane East, WA12 9TU. Telephone 01744 677 885.
Parr - Fleet Lane, WA9 1SY. Telephone 01744 677 580.
Peter Street - Peter Street Community Centre, Peter Street, WA10 2EQ. Telephone 01744 677 896.
Rainford - Church Road, WA11 8HA. Telephone 01744 677 820.
Rainhill - View Road, L35 0LE. Telephone 01744 677 822.
Thatto Heath - Thatto Heath Road, WA10 3QX. Telephone 01744 677 842.
sports
St.Helens enjoys a wide affiliation with a wide variety of sporting activities throughout the borough.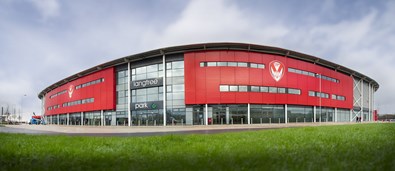 St Helens Rugby League Football Club - capacity of over 18,000, nationally and Internationally recognised as a Rugby Club of Excellence. Its stadium Langtree Park is located in the Peasley Cross area of St Helens.
Haydock Racecourse - located on the outer perimeter of St.Helens close to the Wigan border, with 32 horse racing fixtures a year and live music events attracting thousands of visitors to the area.
Carr Mill Dam - Merseyside's largest body of inland water, offering picturesque lakeside trails and walks as well as national competitive powerboating and angling events.
MAIN ANNUAL EVENTS
'Spark in the Park' - supported Fireworks in Sherdley Park every 5th November.
Christmas Lights - switch on events during December in various towns across St Helens.
Santa Dash - held during December, the run starts from Church Square and ends at Langtree Park.
AREAS OF POTENTIAL HIGHER RISK
Flooding - Floods are mostly natural events that result either from excessive rainfall that leads to rivers overflowing their banks, or from tidal storm surges on the coast or in estuaries. In urban areas, manmade drainage systems may have inadequate capacity or become blocked leading to flooding.  Because of climate change, both the chance and consequence of flooding has increased. Sea levels rise more frequent and higher storm surges and increased winter rainfall and more intense summer rainfall will add to existing risk and it may not prove possible to improve fixed defenses sufficiently to maintain or raise protection standards.  The Environment Agency (EA) is the lead organisation on flood defence, and reports at policy level to the Department for Environment, Food & Rural Affairs (DEFRA). This work, together with the Agency's overall direction and supervision of all aspects of flood defence, is vital for sustaining the existing land use found on river and coastal flood plains.
Industrial Sites (Control of Major Accident Hazards - COMAH) - There is one upper tier COMAH site in St Helens.  An upper tier COMAH establishment is required to produce a full safety report which demonstrates that all necessary measures have been taken to minimise risks posed by the site with regard to the environment and local populations. St Helens, in partnership with Merseyside Fire & Rescue Service and the site operator, share detailed plans of assessment, anticipation, protection, preparedness, response and recovery. Three-yearly exercises are conducted with the site and partner agencies to ensure all processes and procedures are in place and well, rehearsed. (The Control of Major Accident Hazards Regulations 1999 (COMAH) and their amendments 2015, are the enforcing regulations within the United Kingdom of the Seveso II Directive devised in Brussels following the Seveso disaster. They are applicable to any establishment storing or otherwise handling large quantities of industrial chemicals of a hazardous nature).  Further information is available from the Health and Safety Executive.
Upper Tier COMAH Site :
Sutton & Son Limited, Linkway Distribution Park, Elton Head Road, St Helens  
USEFUL CONTACTS
NAME

TELEPHONE

WEBSITE

St Helens Council

01744 676789

St.Helens Hospital

Marshalls Cross Road, St.Helens, WA9 3DA

0151 426 1600

 

 

St.Helens NHS Walk-In Centre

Millenium Building, The Millennium Centre, Corporation Street, St.Helens    

01744 627400

 

 

Merseyside Police

St Helens Police Station, College Street, WA10 1TG

 

 

Urgent 999

General 101

From outside Merseyside 0151 709 6010

01744 26633

 

 

 

Merseyside Fire and Rescue Service

 

Eccleston, Millfields, WA10 4QF

Newton-le-Willows, Barron Road, WA12 0EL

St.Helens, Parr Stocks Road, WA9 1NU

Urgent 999

General 0151 296 4000

0151 296 5475

0151 296 5585

0151 296 6550

 

 

 

 

Maritime & Coastguard Agency

 

Urgent 999

General 0151 931 3341

 

Merseytravel

0151 227 5181

www.merseytravel.gov.uk (for planning rail, bus and ferry journeys)

Scottish Power

 

 

Powercut 105

Enquiries 0845 273 4444

Emergencies 0800 001 5400

 

 

United Utilities

Enquiries (24/7) 0345 672 3723