Lead Agency in Merseyside – Environment Agency
ON MERSEYSIDE
Flooding can come from a number of sources - coastal, rivers, surface water or burst water mains.  Surface water flooding, after sudden and heavy rainfall, happens very quickly.
RISK IMPACTS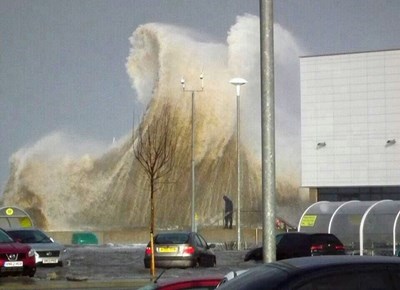 The predicted impacts could include:
Risk to life (people and animals);
Damage to properties, businesses, roads, structures and infrastructure;
Pollution and contamination of local environments;
Long-term damage to tourism and businesses.
CONSEQUENCES
The consequences could include:
Disruption to utilities, electric, gas and water supply;
Flooding of properties;
Evacuation of residents;
Disruption to affected businesses;
Short, medium and long-term accommodation of those whose homes are flooded;
Unrecoverable damage to businesses;
Long-term psychological and health impacts;
Long-term restoration and recovery issues for homes and businesses.
WHAT ARE WE DOING IN MERSEYSIDE?
Identification of what areas could be affected by flood water and who is at risk;
Production of multi-agency plans to assist with the evacuation of those communities who are at risk;
Provision of guidance for the public about protecting property from flooding;
Strategic area planning to protect the areas at risk;
Development of ways and means of alerting the public as early as possible when there is a significant flood risk;
Continuing to invest in maintaining and improving our sea defences;
Developing flood rescue and assistance for those who become isolated by flooding.
WHAT DO YOU NEED TO DO?
BEFORE
DURING
Listen carefully to weather forecasts or visit websites, heed warning and advice;
Where possible, move valuable / irreplaceable items to upper floors during times of flood risk;
Avoid contact with flood water it may be contaminated and regularly wash your hands;
Listen to the Emergency Services, if they tell you to evacuate then do so.
AFTER
If you have to enter flood water, take care as there could be hidden dangers;
If your house is damaged due to flooding, take photos of the damaged items to support any insurance claim;
Do not turn on your gas or electric if you have been flooded. Wait for a qualified technician;
Visit the United Utilities website for helpful advice if you've been flooded and who to turn to for help;
Follow Public Health England's guidance with some useful information on 'Recovering from a Flood';